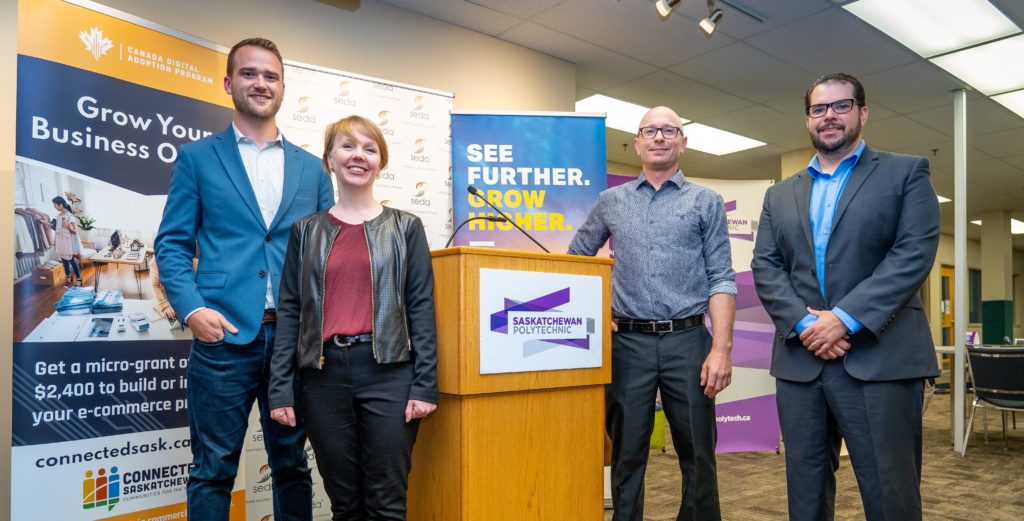 Image credit: Saskatchewan Polytechnic
Post-secondary students help Saskatchewan small businesses with digital presence
A student e-commerce advisor participating in the Canada Digital Adoption Program shared his experiences with new program
June 29, 2022 – The Canada Digital Adoption Program is creating short-term job opportunities for post-secondary students to help small businesses grow their e-commerce and digital presence online. This is an exciting employment opportunity for post-secondary students or recent graduates to become e-commerce advisors and help Saskatchewan small businesses develop their e-commerce footprint.
These opportunities are made possible by the federal government's investment in the Canada Digital Adoption Program – Grow Your Business Online, which is being delivered in Saskatchewan by Connected Saskatchewan. The provincial government, through SaskJobs, is also supporting the e-commerce advisors as they build digital skills. Connected Saskatchewan is a partnership with the Saskatchewan Economic Development Alliance (SEDA), Saskatchewan Polytechnic, Economic Development Regina and Digital Main Street.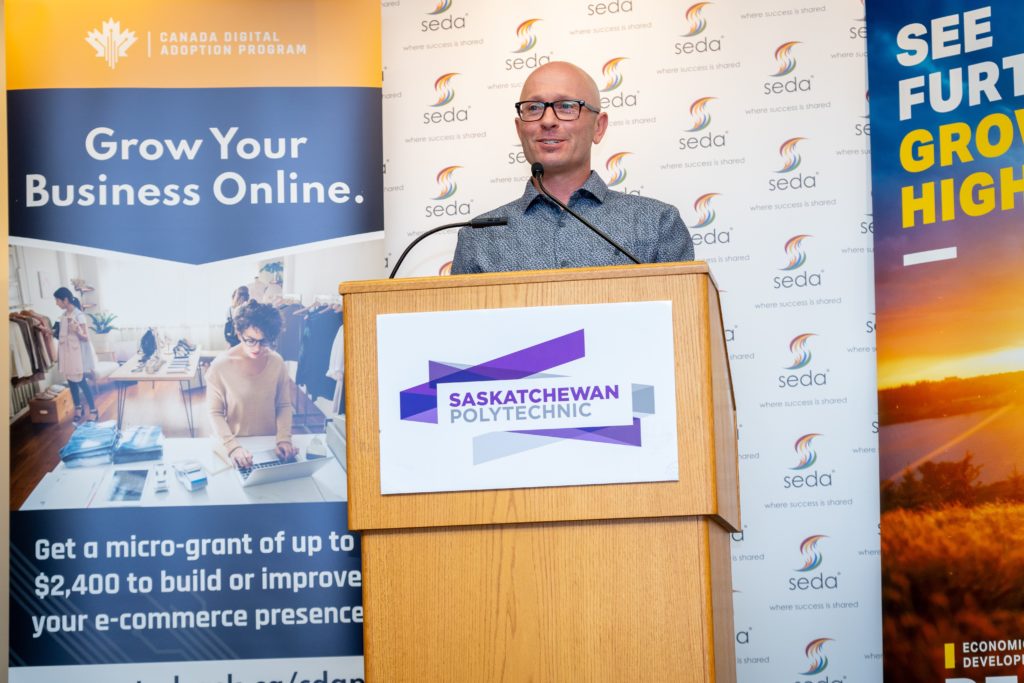 "I'm completing a Sask Polytech co-op term as an e-commerce advisor," says Steven Brenzen, Sask Polytech Business Information Systems diploma student. "Being an e-commerce advisor is super fun. I get to meet and help people who are passionate about their businesses. I'm able to use my skills to help them promote and grow their companies. Clients are grateful to have someone with digital expertise help them with their digital and website goals. I work with clients across Saskatchewan, including clients in rural areas. Overall, it's been a really positive experience."
"The Canadian Digital Adoption Program (CDAP) is so helpful to businesses," says Ryssa Alarcon, marketing manager at Axiom Equipment Group. "We received rapid responses from our CDAP advisor, and we really felt guided through it all. As we currently build and ramp up our e-commerce, we're so grateful to have that extra support and budget."
The Canada Digital Adoption Program will support 384 e-commerce advisor placements over three years. The first cohort started in May 2022. Sask Polytech, along with Digital Main Street, are providing e-commerce advisors with one week of intensive training on digital tools and cybersecurity best practices. E-commerce advisors will work with a handful of small businesses during their work term. Faculty and Digital Main Street will continue to make ongoing educational resources available to the e-commerce advisors throughout their work term. 
"We look forward to many Saskatchewan success stories coming out of this program, including growing businesses and a digitally equipped workforce." – Spencer Nikkel, Program Manager with SEDA/Connected Saskatchewan
"An online presence is becoming increasingly important for any business to compete in today's world," says Spencer Nikkel, program manager at SEDA. "We are thrilled that the government has identified helping small businesses create or improve their online presence as a priority. We look forward to many Saskatchewan success stories coming out of this program, including growing businesses and a digitally equipped workforce."
"Entrepreneurs and small businesses are the backbone of our economy, and Economic Development Regina (EDR) is excited to work with all of the Connected Saskatchewan partners to ensure more Saskatchewan entrepreneurs have the resources they need to digitize their growing businesses," EDR Events and Conventions Business development manager Brendan Manz says.
Connected Saskatchewan supports the socio-economic health and competitiveness of municipalities and First Nations. Eligible businesses for the Canada Digital Adoption Program – Grow Your Busines Online will receive a micro-grant of up to $2,400 to help with costs related to improving their digital presence and will be supported by a network of e-commerce advisors.
Learn more at connectedsask.ca/cdap.