A community's development system has three mutually dependent legs. The interaction among the three legs of the triangle shown here are extremely important.
Community & Economic
Development System
(demand for labour)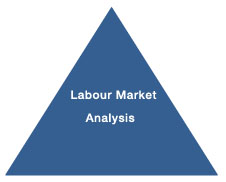 Human Development (education) System
Workforce Development System
(labour supply)
Video: "Connecting the dots between Education, Workforce and Economic Development"
Tele-working is a work arrangement in which employees enjoy flexibility in working location and hours. The daily physical commute to a central place of work is replaced by telecommunication links The practice of teleworking continues to grow in North America. Organizations, particularly private sector enterprises, are becoming more distributed, and the actual locations of their employees or members are not as important as they once were. .
The Telecommuting Calculator by ITBusinessEdge and the Interactive Cost Benefit spreadsheet courtesy of Telework Australia can assist in potential cost-benefit analysis.
In the Subscribers Only Section you will find:
Aligning workforce development and economic development
Regional workforce strategies
Strategies in attracting and retaining talent
Examples of labour market strategies, needs assessment studies and community capacity assessments
Key work drivers of the next twenty years
Building workforce in the digital economy