SaskTel continues to invest in Saskatchewan's economic future
 SaskTel 
Aerial view of Saskatchewan landscape (Photo courtesy of Getty Images).
The modern world is ever-changing and relies heavily on advanced networks to support day-to-day activities – from simply calling loved ones, to running a business.
In Saskatchewan, SaskTel's wireless and wireline networks provide critical connectivity to the vast majority of residents and businesses across the province. As part of the Crown Corporation's ongoing commitment to help build and grow a strong provincial economy, SaskTel recently announced that it will invest approximately $337 million of capital in Saskatchewan in the 2022-2023 fiscal year and more than $1.5 billion over the next five years.
"SaskTel continues to invest in infrastructure and operations to ensure families and businesses throughout Saskatchewan have access to the technologies and services they require to connect, and thrive," said Doug Burnett, SaskTel President and CEO.
Whether customers live in an urban or rural setting, SaskTel recognizes that the province's future depends on access to fast and reliable internet.
"These networks will help to attract and retain businesses and individuals resulting in healthier local economies" – Jason Bentley, SaskTel Marketing Manager – ConsumerInternet
Of SaskTel's total capital expenditure for 2022-2023, nearly a quarter of it will be invested in upgrading its broadband network to fibre. This includes the company's Fibre-to-the-Premises (FTTP) and Fibre-to-the-Business (FTTB) initiatives, collectively known as FTTx.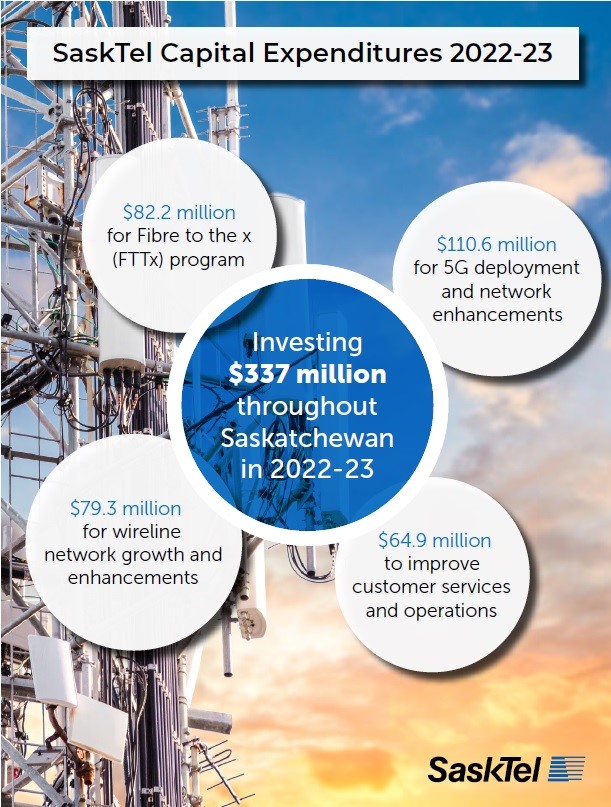 These initiatives are responsible for bringing the fibre optic infrastructure powering SaskTel infiNET™️ service directly to homes and businesses in communities across the province. Delivering internet speeds reaching close to a Gigabit per second (Gbps), the service allows subscribers greater reliability and faster communication. Plus, a fibre-based network, SaskTel's infiNET network is future proof and has the capacity to grow to meet customers evolving needs for data and speed.
"A quality broadband connection allows both businesses and individuals to fully participate in the digital economy," said Jason Bentley, SaskTel Marketing Manager – Consumer Internet. "Fibre-based broadband connections remain best positioned to meet the varying broadband needs for both businesses and residential markets."
In 2022/23, SaskTel will invest a total $82.2 million in FTTx, with the funds being distributed across a few initiatives:
$22.8 million toward FTTP in the nine major centres including Regina, Saskatoon, Estevan, Weyburn, Moose Jaw, Swift Current, Prince Albert, Yorktown, North Battleford (and Battleford).
$35.0 million to FTTP outside of the nine majors as well as the company's Rural Fibre Initiative – a multi-phase program that will see SaskTel invest $100 million to bring infiNET service to over 60,000 residents and businesses spread across 45 rural communities by the end of 2023.
$24.4 million for FTTB.
"As the world continues to shift to a digital-based economy, businesses and individuals will increasingly choose to live and operate in locations with quality broadband networks," he said. "These networks will help to attract and retain businesses and individuals resulting in healthier local economies."
Additionally, as part of its overall capital investment, SaskTel is also investing $110.6 million toward upgrading its wireless network to 5G technology and other network enhancements.
Another $79.3 million will be spent on wireline network growth and enhancements for SaskTel's wireline and maxTV networks to deliver high quality communications and entertainment services to customers across the province. 
Finally, $64.9 million is dedicated toward improving customer services and operations through continued investment in Information Technology (IT) and Information Systems (IS) platforms and service enhancements.
Collectively, these investments build on SaskTel's unwavering commitment to providing world-class services to the people of Saskatchewan and will ultimately lay the foundation for a stronger, more connected future for the province. 
For more information about SaskTel's efforts to invest in Saskatchewan and the communities it serves please visit https://www.sasktel.com/about-us/committied-to-saskatchewan/.