SaskTel's 5G Network Aims to Support Economic Prosperity Across Rural Saskatchewan
The Town of Lumsden was one of 11 locations to receive a SaskTel 5G network expansion in January 2023.
In the summer of 2022, SaskTel began rolling out its 5G network in rural parts of the province to help revolutionize connectivity and bring residents and businesses across Saskatchewan more opportunity and growth.
This year SaskTel will make a record setting $160 million investment in wireless infrastructure which will allow it to upgrade more than 260 cell sites to 5G. Once upgraded, the vast majority of these cell sites will help expand 5G service in Saskatchewan along major highways and in rural or resort areas.
"As the world continues to modernize and move towards faster connectivity, the need for 5G has become increasingly vital—especially in rural areas," said Doug Burnett, SaskTel President and CEO. "5G will assist in bridging the rural digital divide, ultimately improving the quality of life and driving economic development across Saskatchewan."
Currently, SaskTel's 5G network can deliver data speeds of up to 1.2 Gigabits per second (Gbps), and as it matures the network will provide significantly faster speeds.
Its evolution is also expected to deliver massive network capacity and ultra-low latency, all of which will support the emergence and wide-spread deployment of many technological innovations.
"To overcome these challenges, we plan for this work years in advance, making sure that our transport upgrades and appropriate resources will be in place to support the planned 5G roll-out schedule."


– Amanda Halderman, SaskTel Director of Wireless Access & Technology Mgt.
Further, 5G will enable more data-driven smart solutions for agriculture, transportation, and other industries that will help drive rural economic development and prosperity.
For instance, 5G drone equipment can help farmers optimize their productivity by capturing aerial images of their land that can be delivered and assessed almost instantly to determine where resources such as fertilizer or water are required to maximize the crop yield.
When it comes to education, 5G will open opportunities for rural educators to utilize more advanced teaching devices facilitated by a reliable internet connection, making it easier to deliver and access online learning.
5G could help to revolutionize rural health services. For example, smart devices could enable doctors to diagnose patients remotely.
Finally, 5G has the potential to create new remote job opportunities for employees who live in rural areas and commute to larger urban centres for work. This may also attract urban residents to rural communities.
While SaskTel understands the importance of expanding 5G across the province, delivering wireless services to rural areas can be more challenging than in urban settings.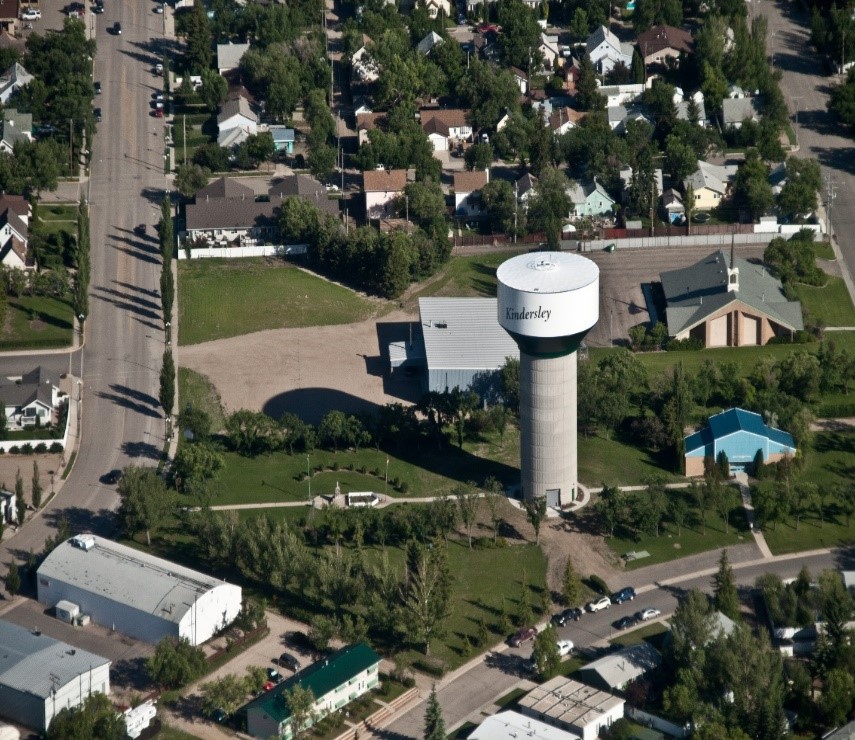 SaskTel's 5G wireless network recently launched in the Town of Kindersley (Photo courtesy of Town of Kindersley).
"We understand that there is a great desire for communication services in rural communities; however, we have a very large province with a geographically dispersed population so it's hard to get everywhere as quickly as we would like to," said Amanda Halderman, SaskTel Director, Wireless Access & Technology Management.
Amanda explained that the construction resources required to build towers in rural areas often must be transported over long distances from major city centres, and the logistics can become complicated.
"In addition to the physical power and fibre infrastructure that's required to the location of a cell tower, we also need to upgrade the fibre network that connects these towers to be able to offer 5G to more remote areas of the province," she said. "All of the equipment involved needs to be able to support higher bandwidth and upgrades are often required."
She added, "To overcome these challenges, we plan for this work years in advance, making sure that our transport upgrades and appropriate resources will be in place to support the planned 5G roll-out schedule," she said
The continued expansion of its 5G and fibre networks are a direct result of SaskTel's commitment to invest more than $1.6 billion of capital across Saskatchewan over the next five years. These investments will help ensure Saskatchewan remains one of the most well-connected provinces in the country.
To learn more about SaskTel's 5G network, visit www.sasktel.com/5g.